Please note that the Nelson Seniors Citizens Association is a separate organization from Nelson and District Seniors Coordinating Society, but we have included the following information on our website for them as a courtesy.
The Nelson Seniors Centre is conveniently located a few doors down the street from us at 717 Vernon Street.
*********************************************************************
NELSON SENIORS CITIZENS ASSOCIATION
The Seniors Centre at 717 Vernon St. next to the Civic Theatre is a building owned by the City of Nelson but is operated solely by a volunteer Board of Directors and volunteer Leaders of activities.  We are always on the lookout for more volunteers and fresh ideas for activities.  If you are willing to help or offer suggestions to make our Centre better, please contact nelsonseniorscentre@gmail.com.
 NEWS FROM THE SENIORS' CENTRE
TAI CHI
Our Tai Chi activity has been such an overwhelming success that we have run out of room with all our new members and we have to stop enrollment in this activity at this time.  If the present member attendance drops off, we can then start offering this again to new members.  We will keep you posted.
***********************************************************************
CHAIR YOGA
See our Chair Yoga in action!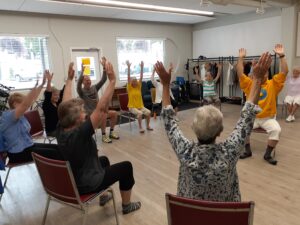 This member activity starts at 10:30 and ends at 12:00 noon.  Come early to pick your chair.
***********************************************************************
SNOOKER
Our members enjoy a rousing game of snooker which has scheduled day and night times.  See our calendar below to see what times are available.  There is regular snooker, novice snooker, and our new activity snooker-golf.  Also, check out what it takes to become a member which is outlined below.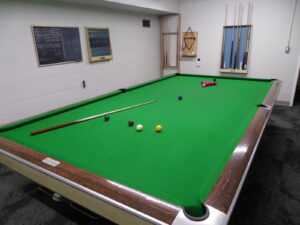 ***********************************************************************
WEDNESDAY CRIB
Our newest celebrity Harold Rich, a participant in our Wednesday 1:00 crib activity, was dealt a "29-point hand" on May 25, 2022.  This is a once-in-a-lifetime special event for crib players.  Congratulations Harold!
What he was dealt and his turn-up card.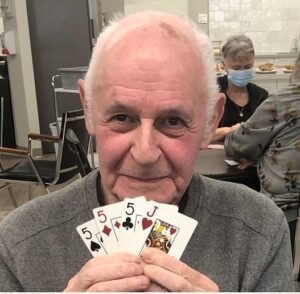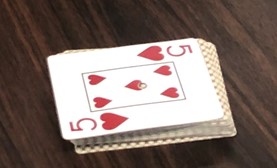 ***********************************************************************
NELSON SENIORS' SOCIAL SCENE AT OUR CENTRE
IMPORTANT: Only come to our Centre if you are symptom-free of COVID, flu, fever, or cold. Please sanitize your hands at the doorway.  Wearing a mask is optional and at your discretion.
Our Centre offers many social activities on a regular basis for 55+ seniors who become members and is our member's living room away from home. Younger adults will be considered for membership, if they are interested in an activity.  Please contact nelsonseniorscentre@gmail.com if you wish to participate.
Membership can be purchased for $20 a calendar year with a free, three-visit trial available for those who are considering joining. Your membership entitles you to participate in all member activities such as crib, bridge, Tai Chi, chair yoga, snooker (novice, regular, snooker-golf), chess, knitting, rug hooking (new name: Hookers & Makers includes crocheting, stitching, etc.), and book club. Most of our activities are drop-in with a $1 or $2 activity fee with some activities providing refreshments. At present we are looking for more participants for bridge, crib, euchre, Scrabble, and chess. There are extensive lending areas for books and jigsaw puzzles to take home. Duplicate bridge is also available to non-members. See calendar below for dates and times of all activities. 
If you have any questions about an activity, contact nelsonseniorscentre@gmail.com and your email can be forwarded to the activity leader for answers.  Alternatively, you can arrive 15 minutes early for an activity and a member will help you join in.  Our Wednesday 1:00 pm crib activity is drop-in, so you do not need a partner – just show up early and start playing.  Our Sunday 1:00 pm crib activity requires a partner.  We can give you a contact or put you on a list, if in the future someone else is looking for one.
Members can also book our Centre for their special events or for their large groups' meeting place.  Please contact nelsonseniorscentre@gmail.com for further information.
Calendars
If you have any questions, please send an email to: nelsonseniorscentre@gmail.com
_________________________________________________________________________________________
Please note: The Donate button at the top and the following generous donors are connected to the Nelson and District Seniors Coordinating Society and have no affiliation to the Nelson Seniors Citizens Association.