CYCLING WITHOUT AGE
For more information, or to book a ride, contact
Using tandem bikes our volunteers help seniors keep riding and enjoying the outdoors. Cycling Without Age Nelson is a part of global movement. 
If you are planning a celebration for a person who has mobility issues, a trishaw ride would make it a special event. It could also provide an outing in the park or around Nelson for any other day.


In 2021 our volunteers provided social connection and fresh air to 157 less mobile individuals in our special trishaws.
We have now purchased a second trishaw with the help of generous donors.  This enhances our ability to provide rides at events and around the greater region.
London, Ont., seniors in global passenger cycling movement get back to 'that playful stage' | CBC News
Mount Hope Centre for Long Term Care in London, Ont., is using two passenger bikes to give residents regular rides as a way to keep them active long after solo riding is no longer possible, part of a global movement started in Denmark.
MEET "HAZEL AND EDNA"
Cycling Without Age is a non-profit program that sees volunteer drivers (pilots) take passengers who have reduced mobility or are otherwise isolated from their community on free trishaw rides. Opportunity is provided to experience life beyond their homes.
The trishaws (Hazel and Edna) are 3-wheeled, electric-assist bicycles that are tools for social change operating on the principles of GENEROSITY, SLOWNESS, STORYTELLING, RELATIONSHIPS and WITHOUT AGE.
Cycling Without Age is about creating a multitude of new relationships between generations, among elders, between pilots and passengers, care home employees and family members. These relationships build trust, happiness, community and quality of life.  
The program began in Copenhagen in 2012 and now operates around the world. Nelson became the 14th active chapter in Canada when our trishaw arrived in May of 2018.  Cycling Without Age, Nelson, BC, operated as an independent non-profit society for the first 2 years and has now amalgamated with Nelson and District Seniors Coordinating Society and operates as a program of the Society.
In 2018 the trishaw Hazel covered just over 1000km, giving free rides within the community from May 15 to Nov 11 to 135 passengers. The trishaw started the season off by riding in Nelson's annual ALS walk.  Hazel was a presence at Canada Day in Lakeside Park, Songs for Seniors events at Lakeside Park, 2018 Pride Parade, Nelson Seniors Fair and Remembrance Day.  Cycling Without Age was also active with residents of Mountain Lakes Seniors Community and participants of Broader Horizons programs. By the end of 2018 Cycling Without Age, Nelson, activities included the participation of 17 volunteer trishaw drivers (pilots) and a volunteer that coordinated ride scheduling. 
The 2019 season started in April with participation in Nelson's Lakeside Easter Egg hunt and the Earth Day parade. By the end of the season the trishaw had been out riding a total of 143 days,  logging 1000km with 100+ passengers, and had added 6 additional volunteer pilots. Hazel was again a part of Canada Day in Lakeside Park. The weekend of June 6 to 8 was spent in Ymir at Tiny Lights Festival, ferrying attendees between event venues within the community. Songs for Seniors events for the year took place in Kaslo and Hazel was taken by trailer to give rides to concert goers once in July and once in August. In August Nelson held its annual International Mural Festival and trishaw rides were given to folks who might otherwise have been unable to see the murals painted on participating businesses in downtown Nelson. Hazel got dressed up in rainbows to participate in the Pride Parade in September.
2020 has been a challenge due to the Covid 19 Pandemic. We started out in June training 6 additional pilots. Rides throughout June and July were given by pilots to passengers in their contact bubble. We began offering twice weekly rides at Lakeview Village in August after developing protocols to ensure the well being of passengers and pilots during the pandemic. Despite the short season Hazel has logged 700 km and given 80 hour long rides to mobility challenged or otherwise isolated individuals. We are happy to continue riding if there are passengers up to the challenge of how to stay warm during the cooler part of the year in Nelson. The trishaw has a fitted blanket that keeps toes to shoulders warm and additional blankets are available.  We have now brought another trishaw (Edna) into the family for more rides and more enjoyment to all.
This volunteer activity is somewhat unique in that both volunteers and riders derive pleasure from the opportunity to spend time with someone they otherwise may never have encountered. The trishaw design and the activity of slowly moving through nature provide an ideal circumstance to build a relationship between volunteer and passenger. 
CYCLING WITHOUT AGE, NELSON (www.cyclingwithoutage.ca)(also see our Facebook page)
COVID-19 SAFETY PROTOCOLS
Purpose
Cycling Without Age, Nelson (CWA) is committed to providing a safe and healthy environment for our volunteers and participants. CWA aims to minimize exposure to COVID-19 by using a combination of safety measures. CWA volunteers must follow these safety protocols to prevent or minimize exposure to COVID-19.
As a volunteer with CWA Nelson you are expected to read and follow these protocols. A copy of this document is posted in the storage shed. Please acknowledge that you have read this information by initialing the posted protocol document.
Covid-19 Health Risk and Symptoms
 Covid-19 is spread by droplet, which impacts close contacts and surface contacts.
Breathing droplets in the air
The BC Centre for Disease Control believes COVID-19 is not caught through airborne transmission. However, coughs and sneezes generate droplets which are airborne for a short period of time, then fall to the ground within a distance of 1 or 2 meters. Those near the individual may risk breathing in the droplets. Physical distancing (maintaining 2 meters of distance between people) reduces the risk of this occurring.
Close contact
Close contact is physical contact with another person (hugging, shaking hands). When people cough or sneeze droplets may land on their clothing or skin, especially if they cough or sneeze into their hands. Carriers of COVID-19 may transfer the virus from their hands or clothing to others during close contact.
Surface contact
Surfaces become contaminated when droplets carrying COVID-19 deposit on them, or when they are touched by those infected. Surface contact involves a person touching a contaminated object (table, doorknob, key, trishaw) and then touching their eyes, nose, or mouth.
Although anyone may become infected with COVID-19, seniors and people with underlying health Issues are at a higher risk of requiring advanced medical care.
Not all infected people display symptoms, so it is important to consistently follow COVID-19 safety protocols.
Symptoms of COVID-19 may include:
                Fever                                                        Shortness of breath
               New or worsening cough                     Sore throat
                Runny/stuffy nose                                  Headaches
                Body aches                                               Loss of smell and/or taste
                Difficulty breathing                               Gastrointestinal symptoms (diarrhea/vomiting)
Large gatherings over an extended period may present more opportunity for transmission due to increased duration, frequency, and intensity of interactions between attendees.
Travel outside of Canada within the last 14 days increases the chance of exposure to COVID-19.
Cleaning Practices
Sanitizing wipes are available in the storage shed and in the trishaw storage box.
*Wipe down all surfaces that have been touched both inside and outside the storage shed and on the trishaw. This must be done before and after each ride as it is possible that the user prior to you may have been rushed and been unable to sanitize after their ride.
Hand sanitizer is available in the storage shed and in the trishaw storage box.
*Sanitize your hands before and after your ride and offer hand sanitizer to passengers before and after their ride.
Masks and Face Shields
Masks do not provide guaranteed protection against infection with COVID-19 but they will help to keep others safe should you be unknowingly infected with COVID-19. Disposable masks are available in the storage shed and in the trishaw storage box.
Personal cloth masks must be cleaned regularly. There is a "How to use a mask" document posted in the shed.
*Read this document and follow effective mask wearing strategies. There are currently 4 face shields available in the storage shed.
*Should you choose to use a face shield, label it with your name. It will be for your personal use.
*A mask or face shield is required for all rides as physical distancing cannot be maintained while riding or assisting passengers on or off the trishaw.
*Passengers will be encouraged to wear a mask. If they live in a facility that requires a mask to be worn please ensure you are following facility guidelines.
Illness
*Do not participate as a volunteer for CWA if you are experiencing any cold or flu-like symptoms.
CWA volunteers or members of their household who exhibit any symptoms of COVID-19 (above) are asked to get tested. If volunteers or their household members test positive, volunteers must self-isolate for 14 days. If volunteers or their household members test negative volunteers can return to their activities when symptoms subside. 
Physical Distancing
The storage shed is not large enough to maintain physical distancing.
*If there is the necessity to have multiple people in the shed at one time, masks or face shields must be worn.
*Rides may be given to a single rider or to 2 riders who are part of a household or contact bubble.
Personal Hygiene
Good hand hygiene is key to staying healthy during the pandemic and beyond. Hand sanitizer is available in the storage shed and in the trishaw storage box.
*Sanitize your hands prior to sanitizing the trishaw and moving it out of the shed.
*Avoid touching your face, including your eyes.
*Avoid touching your mask once it is in place. (as per "How to use a mask" above)
*Wash your hands as soon as possible once you have completed your volunteer activity.
Contact Tracing
*Log your activity in the logbook, even if it does not include giving a trishaw ride. Include passenger name and contact info to facilitate contact tracing should that become necessary.
For the safety of our volunteers, our passengers, and their contacts, it is vital to follow these safety protocols.
This is an evolving situation and, as such, it is expected that these guidelines will evolve as well. CWA Nelson is adopting these measures to ensure that our activities provide a safe environment for our volunteers and our participants.  Please direct any concerns to Bob, Wendy, or June so those concerns can be addressed for the safety of us all.
CYCLING WITHOUT AGE, NELSON (www.cyclingwithoutage.ca) (also see our Facebook page)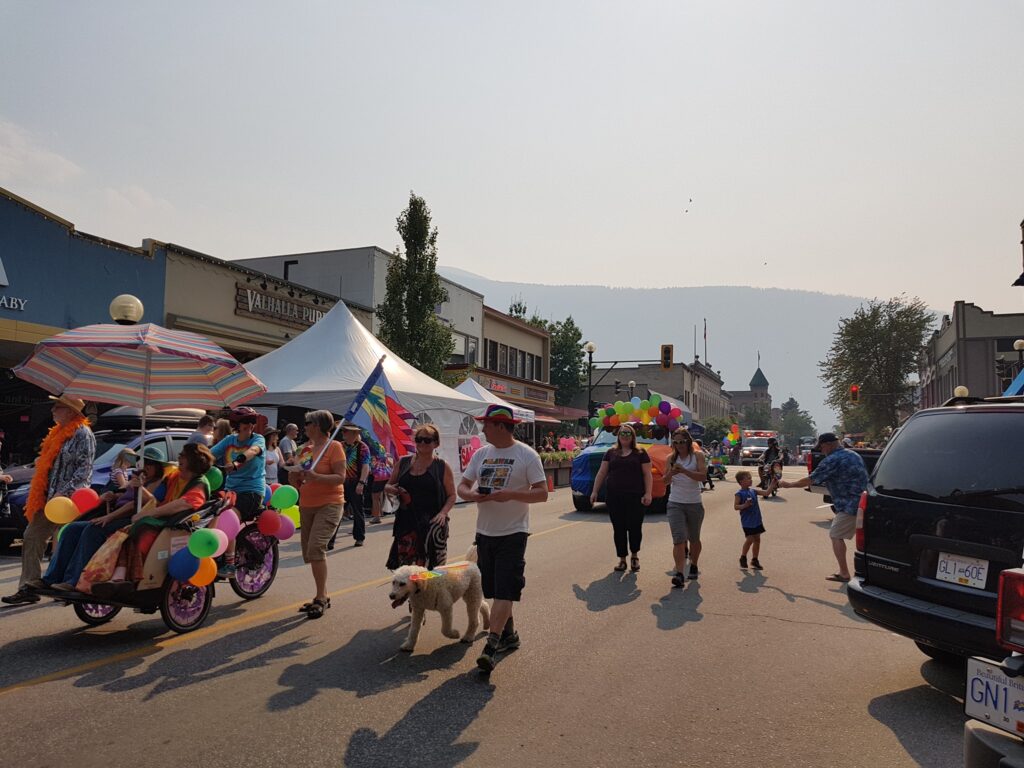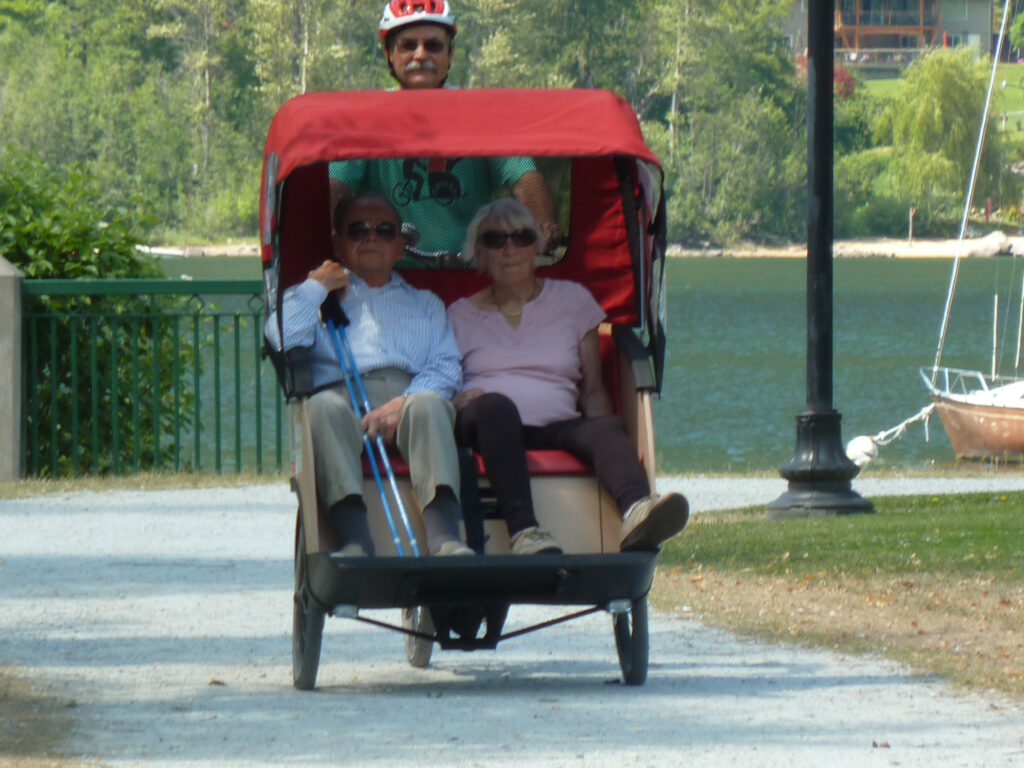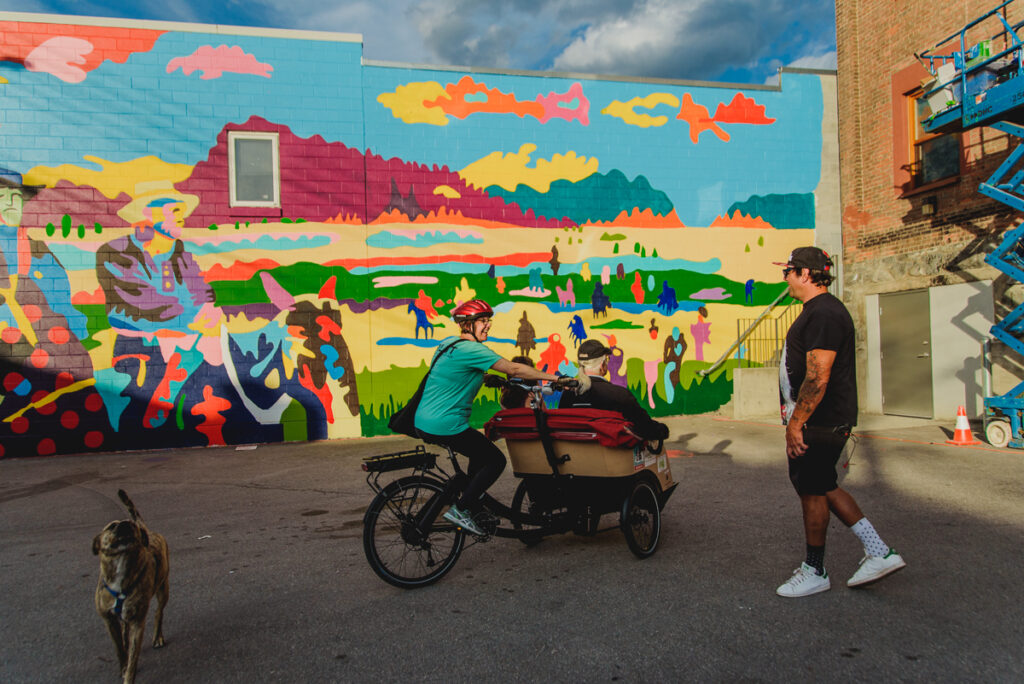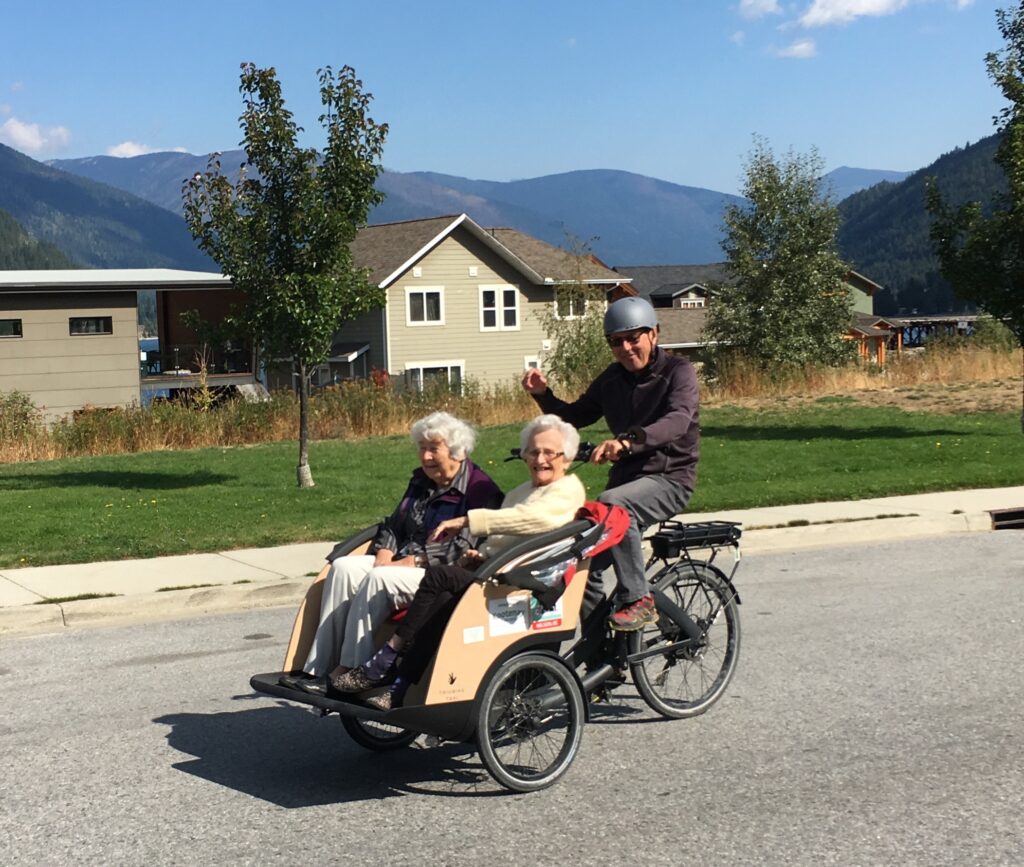 CYCLING WITHOUT AGE, NELSON (www.cyclingwithoutage.ca) (also see our Facebook page)