CYCLING WITHOUT AGE
For more information, or to book a ride, contact
We have been very busy last year since we adopted "Edna", our second trishaw.  In addition to our regular ridership from Lakeview Village and Mountain Lakes Seniors Community, we provided rides at the following special events: Kaslo May Days, Nelson Canada Day, Nelson Mural Festival, Learning in Retirement Picnic, Lakeside Park Craft Fair, LVR Classes of 1960, 61, and 62 reunion, and Granny Garden Tours (weekly through the summer).  Even the kids enjoyed their ride with Grandma and Grandpa.
If you are planning a celebration for a person who has mobility issues, a trishaw ride would make it a special event. It could also provide an outing in the park or around Nelson for any other day.
See More on Hazel and Edna below:
---
Using tandem bikes our volunteers help seniors keep riding and enjoying the outdoors. Cycling Without Age Nelson is a part of global movement. 
There are many chapters throughout Canada.  For further information on this Canada-wide service their website is www.cyclingwithoutage.ca
In 2021 our volunteers provided social connection and fresh air to 157 less mobile individuals in our special trishaws.
We have now purchased a second trishaw with the help of generous donors.  This enhances our ability to provide rides at events and around the greater region.
London, Ont., seniors in global passenger cycling movement get back to 'that playful stage' | CBC News
Mount Hope Centre for Long Term Care in London, Ont., is using two passenger bikes to give residents regular rides as a way to keep them active long after solo riding is no longer possible, part of a global movement started in Denmark.
MEET "HAZEL AND EDNA"
Cycling Without Age is a non-profit program that sees volunteer drivers (pilots) take passengers who have reduced mobility or are otherwise isolated from their community on free trishaw rides. Opportunity is provided to experience life beyond their homes.
The trishaws (Hazel and Edna) are 3-wheeled, electric-assist bicycles that are tools for social change operating on the principles of GENEROSITY, SLOWNESS, STORYTELLING, RELATIONSHIPS and WITHOUT AGE.
Cycling Without Age is about creating a multitude of new relationships between generations, among elders, between pilots and passengers, care home employees and family members. These relationships build trust, happiness, community and quality of life.  
The program began in Copenhagen in 2012 and now operates around the world. Nelson became the 14th active chapter in Canada when our trishaw arrived in May of 2018.  Cycling Without Age, Nelson, BC, operated as an independent non-profit society for the first 2 years and has now amalgamated with Nelson and District Seniors Coordinating Society and operates as a program of the Society.
In 2018 the trishaw Hazel covered just over 1000km, giving free rides within the community from May 15 to Nov 11 to 135 passengers. The trishaw started the season off by riding in Nelson's annual ALS walk.  Hazel was a presence at Canada Day in Lakeside Park, Songs for Seniors events at Lakeside Park, 2018 Pride Parade, Nelson Seniors Fair and Remembrance Day.  Cycling Without Age was also active with residents of Mountain Lakes Seniors Community and participants of Broader Horizons programs. By the end of 2018 Cycling Without Age, Nelson, activities included the participation of 17 volunteer trishaw drivers (pilots) and a volunteer that coordinated ride scheduling. 
The 2019 season started in April with participation in Nelson's Lakeside Easter Egg hunt and the Earth Day parade. By the end of the season the trishaw had been out riding a total of 143 days,  logging 1000km with 100+ passengers, and had added 6 additional volunteer pilots. Hazel was again a part of Canada Day in Lakeside Park. The weekend of June 6 to 8 was spent in Ymir at Tiny Lights Festival, ferrying attendees between event venues within the community. Songs for Seniors events for the year took place in Kaslo and Hazel was taken by trailer to give rides to concert goers once in July and once in August. In August Nelson held its annual International Mural Festival and trishaw rides were given to folks who might otherwise have been unable to see the murals painted on participating businesses in downtown Nelson. Hazel got dressed up in rainbows to participate in the Pride Parade in September.
2020 has been a challenge due to the Covid 19 Pandemic. We started out in June training 6 additional pilots. Rides throughout June and July were given by pilots to passengers in their contact bubble. We began offering twice weekly rides at Lakeview Village in August after developing protocols to ensure the well being of passengers and pilots during the pandemic. Despite the short season Hazel has logged 700 km and given 80 hour long rides to mobility challenged or otherwise isolated individuals. We are happy to continue riding if there are passengers up to the challenge of how to stay warm during the cooler part of the year in Nelson. The trishaw has a fitted blanket that keeps toes to shoulders warm and additional blankets are available.  We have now brought another trishaw (Edna) into the family for more rides and more enjoyment to all.
This volunteer activity is somewhat unique in that both volunteers and riders derive pleasure from the opportunity to spend time with someone they otherwise may never have encountered. The trishaw design and the activity of slowly moving through nature provide an ideal circumstance to build a relationship between volunteer and passenger.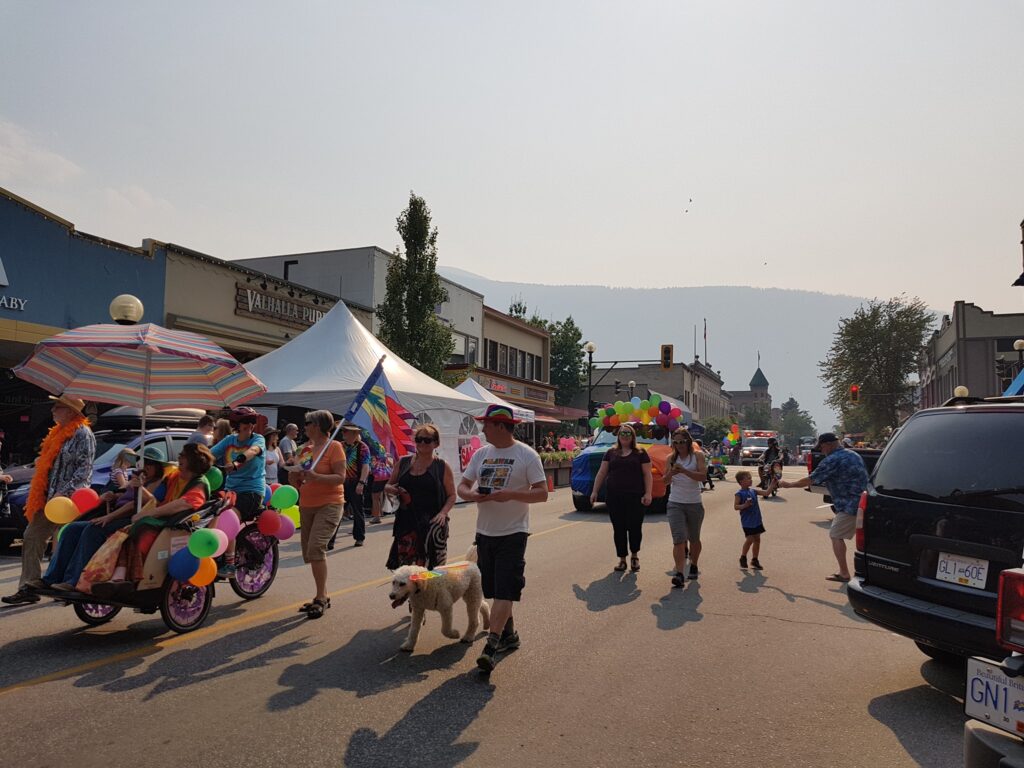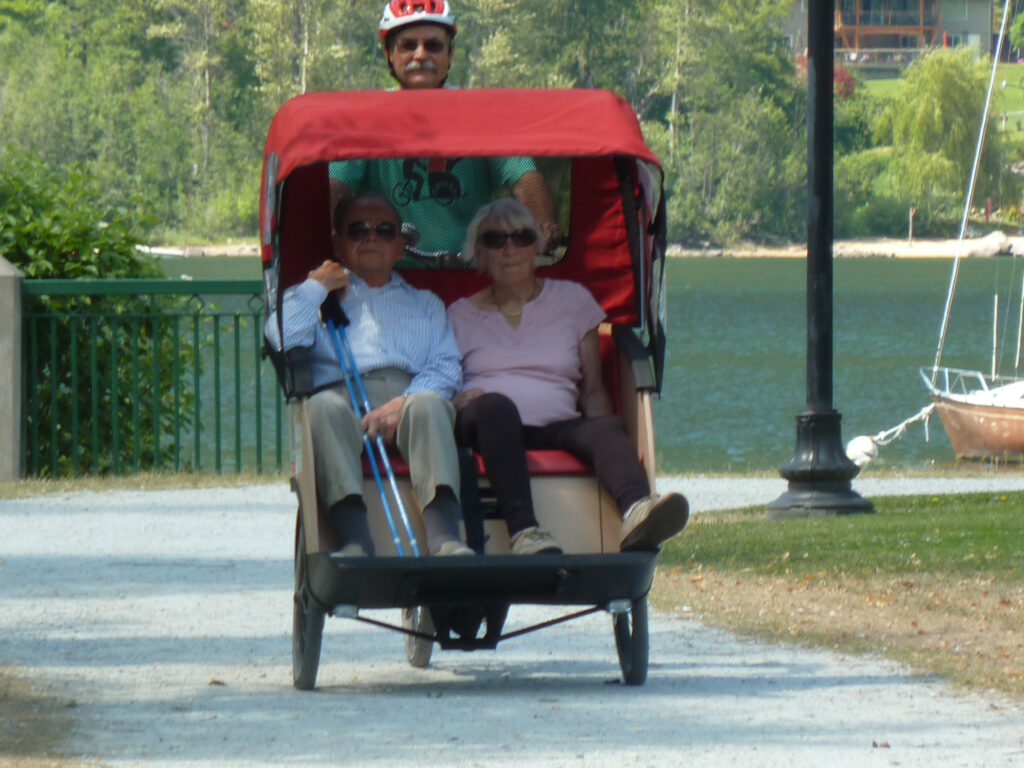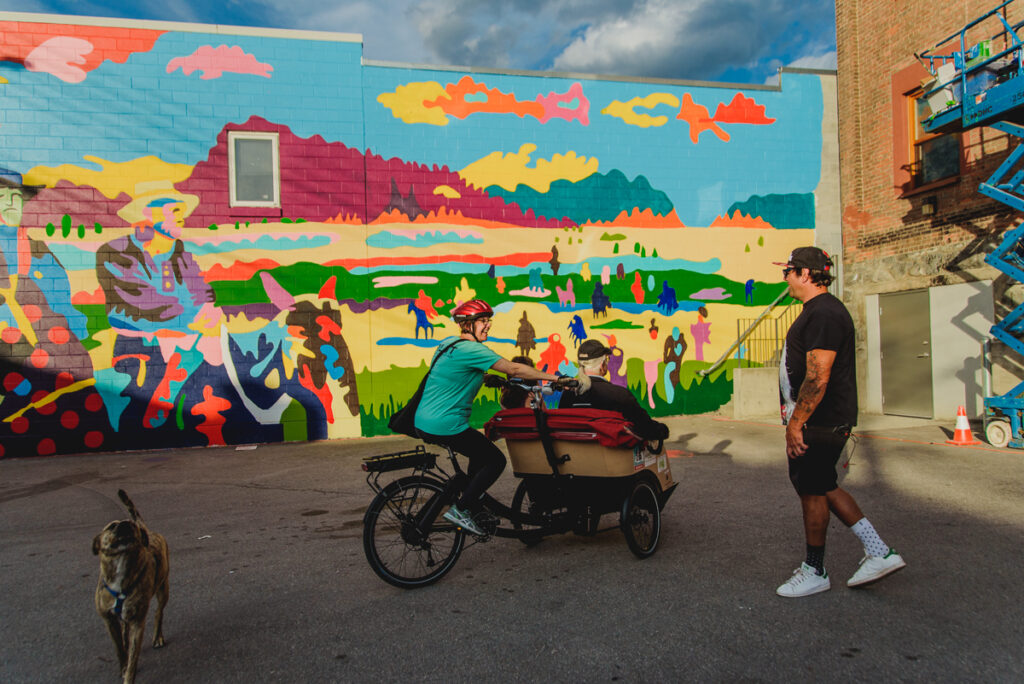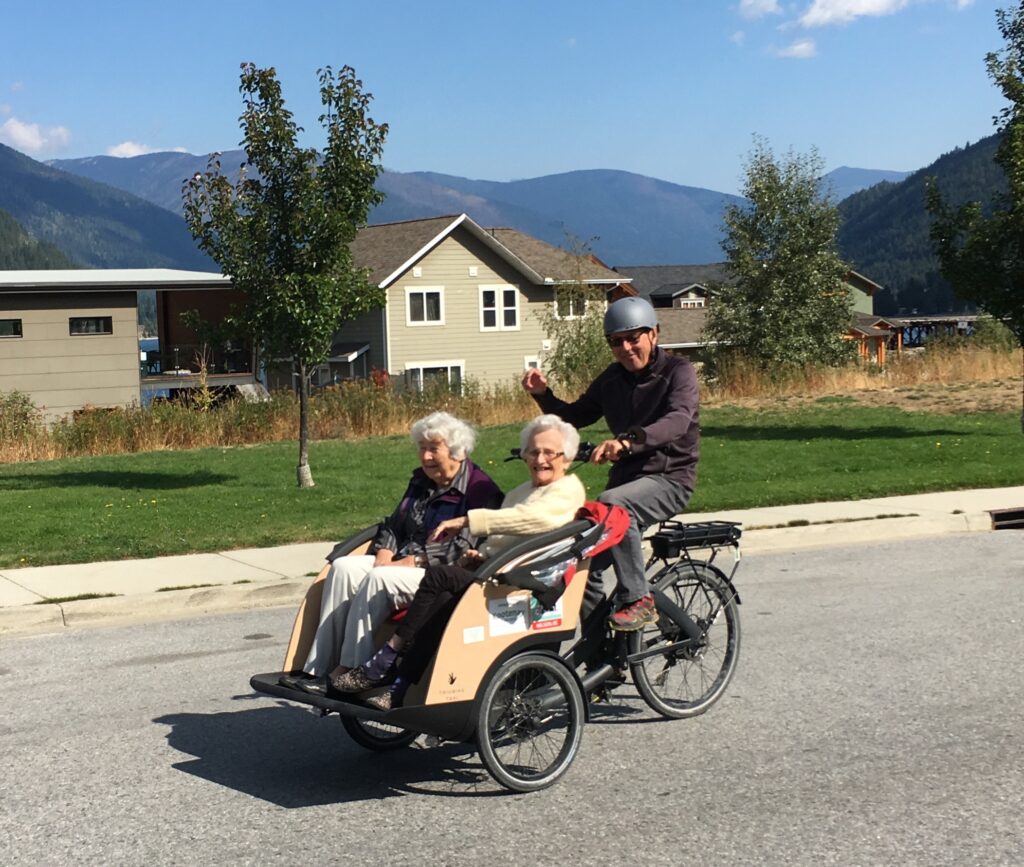 For more information, or to book a ride, contact